Wheat Foods Council
The Place to Go When You Want to Know

Welcome to the Wheat Foods Council website. It is a one-stop source for everything about wheat and wheat food nutrition. Here you will find the latest news and research, trending topics, tips, recipes, and more. And what would a website devoted to wheat foods be without lots of delicious recipes? On our site, you'll also find recommendations and recipes for all types of meals ranging from Tomato Basil Pasta to Fruit Dessert Pizza and everything "grain" in between.
Members of the WFC include grain producers, millers and bakers, baking suppliers, and life science companies. The Council develops sound educational and promotional nutrition programs that reach health and nutrition professionals, opinion leaders, media, and consumers.
Who are our key audiences ?
Registered Dietitians

Personal Trainers

Chefs and Menu Developers

Health-Conscious Consumers
The Wheat Foods Council reaches out to each of these audiences as part of its mission to help increase awareness of dietary grains as an essential component of a healthful diet.
With your involvement, the Wheat Foods Council can continue to grow our reach and effectiveness, and increase the value we bring to each member and to our industry as a whole. We'd love for you to be a part of what we're growing.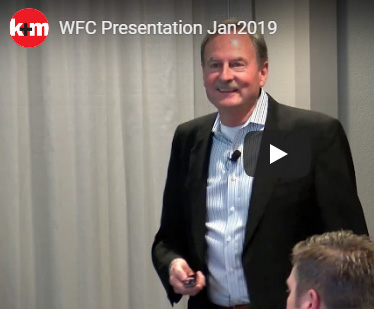 President Tim O'Connor lays out the Wheat Foods Council
strategy and marketing plan (Click to play)
   Our History
Wheat producers across the country joined together in 1972 to create the Wheat Foods Council as a national non-profit organization to promote the category of wheat-based foods, including baked goods, cereal, crackers, pretzels, pasta, sweet goods and tortillas. Since then, our organization has established itself as a leading source of science-based information on wheat and wheat foods nutrition. Backed by our 43-year history, we are proud to share our expertise about "all things wheat foods" with health and nutrition practitioners, educators, the media, consumers, and anyone who, like us, loves the many wonderful foods made from wheat.