6/28/22
Wheat Foods Council Celebrates 50th Anniversary
Littleton, CO – Wheat Foods Council (WFC) members and supporters gathered at its Summer Meeting in Charleston, SC to celebrate the significant milestone of the 50th anniversary of the organization. In the early 1970s wheat foods were under attack for containing a high portion of carbohydrates which many people believed made foods fattening. In May 1972, the wheat commissions from Kansas, Texas, Colorado, South Dakota and Nebraska met to create a coordinated response, resulting in the establishment of the Wheat Foods Council. Soon other state wheat commissions along with milling, baking and other allied industry companies joined WFC to increase its resources and expand its important efforts.  Today, WFC uniquely remains an organization whose membership encompasses the entire wheat foods value chain.
At the meeting in Charleston new officers were seated for WFC's 2022/2023 fiscal year: Kent Juliot, Ardent Mills, Chair; Ron Suppes, Kansas Wheat Commission, Vice Chair, Mark Hotze, Corbion, Treasurer/Secretary and Darby Campsey, Texas Wheat Producers, Immediate Past Chair. The board also reviewed the highly successful programs WFC conducted during the fiscal year. Included among them were:
To continue educating Personal Trainers in April 2020 when COVID shutdown in-person activities and events, WFC began creating short educational videos and sharing them through its social media. By June 2022 these videos had achieved over 18 million views by Personal Trainers. Personal Trainers' advice reaches and influences more than 30 million consumers each week; educating them about the nutritional importance of wheat foods is one of WFC's core strategies.
WFC conducted a Chef Workshop focused on the plant-forward food trend at the Culinary Institute of America in April 2022, giving menu development chefs a hands-on demonstration of how wheat foods are a key menu component to meeting this food trend which the chefs identified as the most important trend their businesses are dealing with.
Also, in conjunction with the chef workshop, WFC put on the Future of Food Forum with expert speakers addressing plant-forward foods, sustainability, managing supply chains and innovation and collaboration. These were the topics menu development chefs identified as critical to the future of their companies. The speakers' presentations were excellent and the panel discussion and questions went for an additional 90 minutes. The audience at the event found it highly useful, rating the Forum 9.47 out of 10 on their event surveys.
The WFC Board also approved program plans and budgets for the 2022/2023 fiscal year at its meeting. The program plans feature holding another Chef Workshop at the Culinary Institute of America and educating Personal Trainers through various methods including continuing the video campaign, providing expert speakers and exhibiting at select Personal Trainer conferences.
WFC's leadership invites everyone in the industry to join the organization and assist in increasing demand for wheat foods. To learn more about WFC and its strategies visit its website https://www.wheatfoods.org/strategic-plan/
#
Membership of the Wheat Foods Council includes state wheat commissions and associations, millers, bakers, ingredient and life science companies and others in the wheat value chain. WFC develops sound educational and nutritional programs that target health, nutrition and fitness professionals, opinion leaders, media, chefs and consumers. It is the one-stop source for everything about wheat and wheat foods nutrition.
###
9/2/2020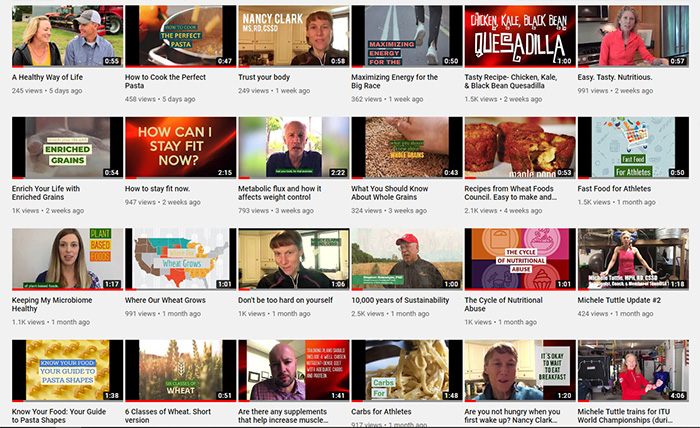 Wheat Foods Council Celebrates Surpassing 1 Million Video Views
Littleton, CO – Over 1 million views by Personal Trainers, dietitians and other nutrition
and fitness professionals! That is the milestone just achieved by the Wheat Foods Council by
producing dozens of entertaining and educational videos over the last five months. When
COVID-19 shut down the Personal Trainer events where WFC planned to speak and exhibit, the
team pivoted to producing short educational videos.
"We felt producing these videos and delivering them through our social media channels
was the best alternative to continue our educational outreach while in-person activities were
unavailable. Our videos are reaching our target audience in an entertaining and informative
way that is highly successful," said Tim O'Connor, WFC President.
In 2015 WFC engaged in strategic planning and determined Personal Trainers were the
critical target; there were 300,000 of them, they gave a lot of advice to their clients about
weight loss/weight management and much of it was negative to wheat foods—it was time to
address the support for fad diets like low-carb, Paleo, Keto and others, coming from Personal
Trainers. Additionally, they reach 4 – 6 million clients per week, who share what their trainer
said with 32 – 48 million family and friends each week.
At WFC's 2020 virtual Summer Meeting results of a recent survey of Personal Trainers*
documented the impact WFC's plan has achieved in just four years. You can see in the
accompanying graph considerable improvement in what Personal Trainers know about wheat
food nutrition today compared to our exploratory survey in 2015 and even significant
improvement since 2019.
The most important turnaround is that 89% of the 2,000 trainers we surveyed identified
carbohydrates as a health and nutritional benefit of wheat foods made from enriched flour, only
10% of trainers said that in 2015.
"Having 89% of trainers – up from just 10% – see carbs as health and nutritional benefits of
wheat foods is a huge accomplishment. We achieved that by having our nutrition and athletic
experts provide sound nutrition information at their meetings, webinars and recently via social
media videos. We have some of the top experts in the field on our team. Trainers are anxious to
learn from them and receive continuing education credits from their presentations," said
Hayden Wands, VP Global Procurement, Grupo Bimbo and Chairman of the Wheat Foods
Council.
*In August 2015, Wakefield Research surveyed Health and Fitness Professionals, including Registered Dietitian
Nutritionists, MDs, and Personal Trainers, using an email invitation and an online survey. Follow-up surveys using a
selection, but not all, of the original questions were conducted in January 2019 and May 2020 focusing solely on
Personal Trainers.
You can find WFC's videos on:
Facebook, Instagram, Twitter and TikToc,
WFC's YouTube channel https://www.youtube.com/c/WheatFoodsCouncil/videos
WFC's website https://www.wheatfoods.org
WFC's Center for Nutrition and Athletics http://www.centerfornutritionandathletics.org
#
Membership of the Wheat Foods Council includes state wheat commissions and associations,
millers, bakers, life science companies and others in the wheat value chain. WFC develops
sound educational and nutritional programs that target health, nutrition and fitness
professionals, opinion leaders, media, chefs and consumers. It is the one-stop source for
everything about wheat and wheat foods nutrition.
For Immediate Release: September 2, 2020
Contact: Tim O'Connor, President WFC
toconnor@wheatfoods.org (303) 229-9198
###
4/15/2020 (Centennial, CO)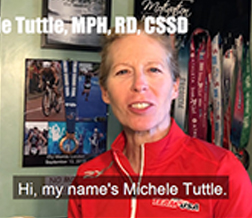 Announcing the launch of "We Are Here to Help"
The first in a series of new videos for Personal Trainers from the Wheat Foods Council
Featuring facts and information about sports nutrition and fitness
Attention Personal Trainers!
The Wheat Foods Council is creating dozens of new videos about nutrition for competitive sports and general fitness tailored to the Personal Trainer community. Since the Covid-19 situation required the cancellation of many industry events, we can't meet with you in person. So, our team is creating these videos as a way to bring fresh, useful content to you to virtually share with your clients who are also isolating at home.
For now, it's important to stay home and stay safe, but you can count on the WFC to continue to share important nutrition and fitness information with you online!
Videos are available at WheatFoods.org and FoodFit.org
Overview of Video Topics:
Q&A and information sessions with leading sports nutrition experts who are members of the Center for Nutrition and Athletics (CNA) Advisory Board, including:
Nancy Clark, the premier Sports Nutrition expert and author of the seminal book on the subject, the Sports Nutrition Guidebook
Dr. Corrie Whisner, one of the leading gut health and microbiome experts in the country;
Dr. Glenn Gaesser, Director of the Healthy Lifestyles Research Center at Arizona State University.
Regular posts from Michele Tuttle, MPH, RD, CSSD, Nutritionist, and amateur elite triathlete, as she continues to train for her eigth trip to the ITU World Triathlon Championships
Up-to-date information and advice from WFC members of the farming, milling, and baking industries
Plus, entertaining and useful animated infographics and easy-to-prepare recipes
Contacts:
Tim O'Connor, President, Wheat Foods Council 303.229.9198 toconnor@wheatfoods.org
Dave Mangan, Boss, k+m communications 301-922-4452 dave@teamkm.biz
###
07/12/2017
Wheat Foods Council Sets Program Plan
Ridgway, CO  – At its recent Summer Meeting, held in Manhattan, Kansas, the Wheat Foods Council (WFC) approved the program plan for its 2017-2018 fiscal year that began on July 1, 2017. The programs are the year two tactics of implementing the WFC's strategic plan's four core strategies:
Personal Trainers – A partnership with Personal Trainers gives us the opportunity to provide additional balance to the conversation about the goodness of wheat foods.
Enriched Wheat Products – Despite its presence in so many healthy, everyday foods, misperceptions about the goodness of enriched wheat still exists today. We continue to drive conversations about the many benefits enriched wheat products provide.
Registered Dietitians – Our longstanding partnership with Registered Dietitians has paid healthy dividends, as they continue to amplify our strategic messaging through their expert voice.
Modern Wheat – We have initiated a campaign to improve the image of modern wheat and wheat breeding by proactively addressing the misinformation through messaging to influencer groups using science-based facts.
WFC's FY 2017-2018 Programs
Personal Trainers
Exhibit at the largest Personal Trainer expo
Grow our centerfornutritionandathletics.org website as a key hub to connect with Personal Trainers
Expand our webinar presence building off our record setting initial webinar attendance of over 2000 Personal Trainers
Develop a Personal Trainer app that trainers can use with their clients that includes nutrition advice, meal plans, menus, videos and tips.
Create and distribute recipe and expert videos • Sponsor 2016 World Triathlon Championship Silver Medalist Michele Tuttle in her quest for Gold at the 2017 World Championships