4/15/2020 (Centennial, CO)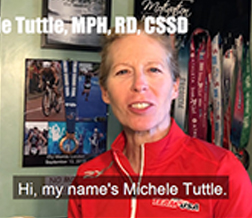 Announcing the launch of
"We Are Here to Help"
The first in a series of new videos for Personal Trainers
from the Wheat Foods Council
Featuring facts and information about sports nutrition and fitness
Attention Personal Trainers!
The Wheat Foods Council is creating dozens of new videos about nutrition for competitive sports and general fitness tailored to the Personal Trainer community. Since the Covid-19 situation required the cancellation of many industry events, we can't meet with you in person. So, our team is creating these videos as a way to bring fresh, useful content to you to virtually share with your clients who are also isolating at home.
For now, it's important to stay home and stay safe, but you can count on the WFC to continue to share important nutrition and fitness information with you online!
Videos are available at WheatFoods.org and FoodFit.org
Overview of Video Topics:
Q&A and information sessions with leading sports nutrition experts who are members of the Center for Nutrition and Athletics (CNA) Advisory Board, including:
Nancy Clark, the premier Sports Nutrition expert and author of the seminal book on the subject, the Sports Nutrition Guidebook
Dr. Corrie Whisner, one of the leading gut health and microbiome experts in the country;
Dr. Glenn Gaesser, Director of the Healthy Lifestyles Research Center at Arizona State University.
Regular posts from Michele Tuttle, MPH, RD, CSSD, Nutritionist, and amateur elite triathlete, as she continues to train for her eigth trip to the ITU World Triathlon Championships
Up-to-date information and advice from WFC members of the farming, milling, and baking industries
Plus, entertaining and useful animated infographics and easy-to-prepare recipes
Contacts:
Tim O'Connor, President, Wheat Foods Council 303.229.9198 toconnor@wheatfoods.org
Dave Mangan, Boss, k+m communications 301-922-4452 dave@teamkm.biz
###
07/12/2017 (Ridgway, CO)
Wheat Foods Council Sets Program Plan
FOR IMMEDIATE RELEASE
Contact:
Tim O'Connor President
303.229.9198
toconnor@wheatfoods.org
Ridgway, CO (July 12, 2017) – At its recent Summer Meeting, held in Manhattan, Kansas, the Wheat Foods Council (WFC) approved the program plan for its 2017-2018 fiscal year that began on July 1, 2017. The programs are the year two tactics of implementing the WFC's strategic plan's four core strategies:
Personal Trainers – A partnership with Personal Trainers gives us the opportunity to provide additional balance to the conversation about the goodness of wheat foods.
Enriched Wheat Products – Despite its presence in so many healthy, everyday foods, misperceptions about the goodness of enriched wheat still exists today. We continue to drive conversations about the many benefits enriched wheat products provide.
Registered Dietitians – Our longstanding partnership with Registered Dietitians has paid healthy dividends, as they continue to amplify our strategic messaging through their expert voice.
Modern Wheat – We have initiated a campaign to improve the image of modern wheat and wheat breeding by proactively addressing the misinformation through messaging to influencer groups using science-based facts.
WFC's FY 2017-2018 Programs
Personal Trainers
Exhibit at the largest Personal Trainer expo
Grow our centerfornutritionandathletics.org website as a key hub to connect with Personal Trainers
Expand our webinar presence building off our record setting initial webinar attendance of over 2000 Personal Trainers
Develop a Personal Trainer app that trainers can use with their clients that includes nutrition advice, meal plans, menus, videos and tips.
Create and distribute recipe and expert videos • Sponsor 2016 World Triathlon Championship Silver Medalist Michele Tuttle in her quest for Gold at the 2017 World Championships